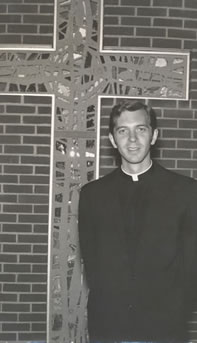 Daniel as a young priest in Pittsburgh, PA, 1969
About Daniel
Daniel Helminiak teaches psychology and spirituality as Professor at the University of West Georgia. He is also a psychotherapist, Catholic priest and theologian, author, and lecturer. He holds a PhD in psychology from The University of Texas at Austin and a PhD in theology from Andover Newton Theological School and Boston College, where he was teaching assistant to Prof. Bernard Lonergan, whom Newsweek magazine called the Thomas Aquinas of the 20th Century. He is certified as a Fellow of the American Associatio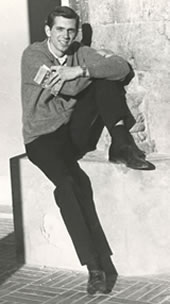 n of Pastoral Counselors and is licensed as a Professional Counselor in the state of Georgia. His book, What the Bible Really Says about Homosexuality (Alamo Square Press, 1994, 2000), is an international best-seller. His more recent popular books are Spirituality for Our Global Community: Beyond Traditional Religion to a World at Peace (2008), The Transcended Christian: Spiritual Lessons for the Twenty-First Century (2007), Sex and the Sacred: Gay Identity and Spiritual Growth (2006), and Meditation without Myth: What I Wish They'd Taught Me in Church about Prayer, Meditation, and the Quest for Peace (2005).
Daniel in Rome, 1967
As a psychotherapist, social scientist, and theologian, he is concerned to integrate religion and psychology and, thus, to suggest what wholesome human living means in a pluralistic and secularized world. Said otherwise, his specialization is spirituality. His areas of special interest are post-childhood development and human sexuality.
Born and raised in Pittsburgh, Pennsylvania, he studied at the Pontifical Gregorian University and was ordained in Rome and ministered as a Catholic priest—including chaplaincy to Dignity (the national organization for gay, lesbian, bisexual, and transgender Catholics, their families, and friends) in Pittsburgh, Baltimore, Boston, San Antonio, and Austin—and was Assistant Professor for Systematic Theology and Spirituality at Oblate School of Theology in San Antonio.
His technical books are Religion and the Human Sciences: An Approach via Spirituality (1998), The Human Core of Spirituality: Mind as Psyche and Spirit (1996), Spiritual Development: An Interdisciplinary Study (1987), and The Same Jesus: A Contemporary Christology (1986). He has also published in Anglican Theological Review, Bondings, Child & Family Behavior Therapy, Christopher Street, Counseling and Values, culturefront, Dignity/USA Journal, Ecumenical Trends, Emmanuel, The Heythrop Journal, The Humanistic Psychologist, Human Development, The International Journal for the Psychology of Religion, Journal of Sex Education and Therapy, The Journal for the Theory of Social Behavior, The Journal of Pastoral Care, The Journal of Psychology and Theology, The Journal of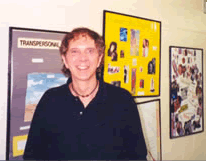 Religion and Health, Marriage and Family, National Catholic Reporter, New Blackfriars, NOVA-PSI Newsletter, Open Hands, Pastoral Psychology, Perspective (Association for Humanistic Psychology), Reflections (Yale Divinity School), Religion Teacher's Journal, Reviewfor Religious, Soundings,

Daniel in 1997 at
"West Georgia College"
Southern Voice (and affiliated newspapers), Spirituality Today, Spiritual Life, This Week in Texas, Visionary, White Crane Journal, Worship, and Zygon: Journal of Religion and Science.